Combs' Peak / PCT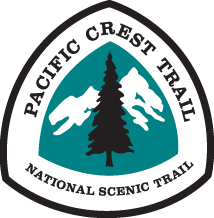 Pacific Crest Trail
Mile 127 – 129 (2 miles)
Our friends invited us to come for a backpacking trip up in Sequoia National Park over the Memorial Day weekend. After calling the ranger station up there and hearing that it would likely be below freezing overnight we decided that we'd keep it local where the temperatures haven't been so bad. Just north of Warner Springs the PCT goes through the Bucksnort Mountains in the Anza-Borrego Desert and the highest point of the range is Combs' Peak. According to our guide-book, it's a short easy walk to a saddle with good camping. We set off!
Driving there we ended up going on a rough dirt road. It was really bumpy so Jess took it slow while G slept in the back. We arrived at the point where the PCT crosses the road and got set up for our short hike. 20 yards or so from the road there is a cache of water bottles as well as a PCT log book which unfortunately had just been replaced so we didn't get to read about anyone else's trip before writing a couple of sentences about ourselves.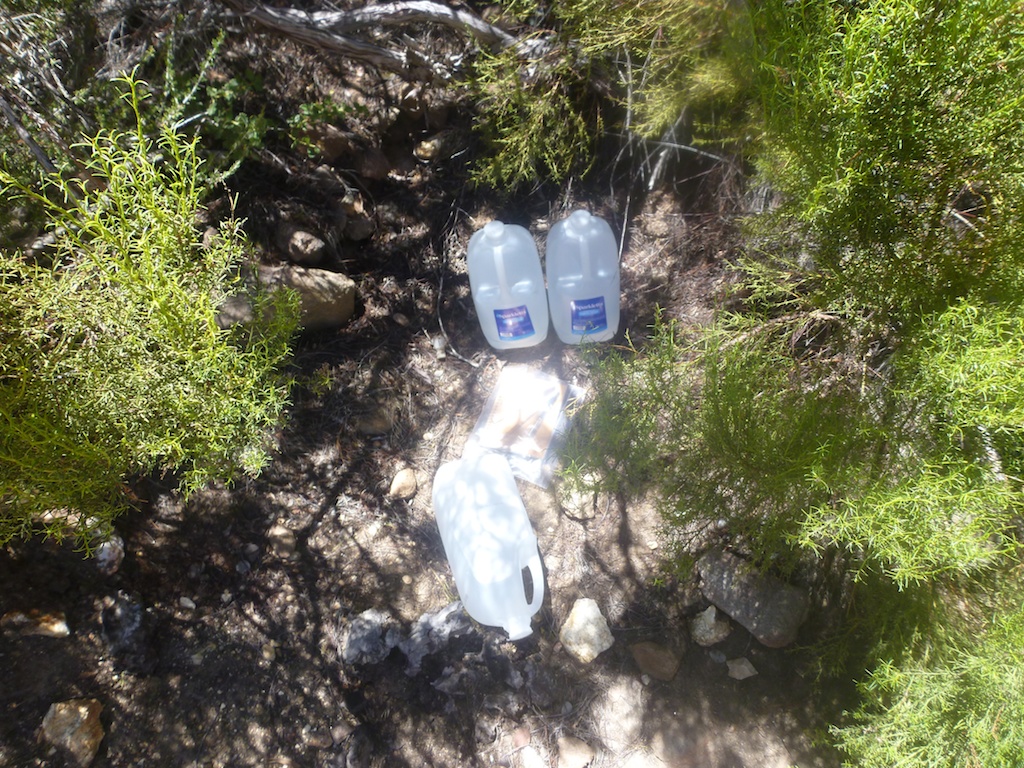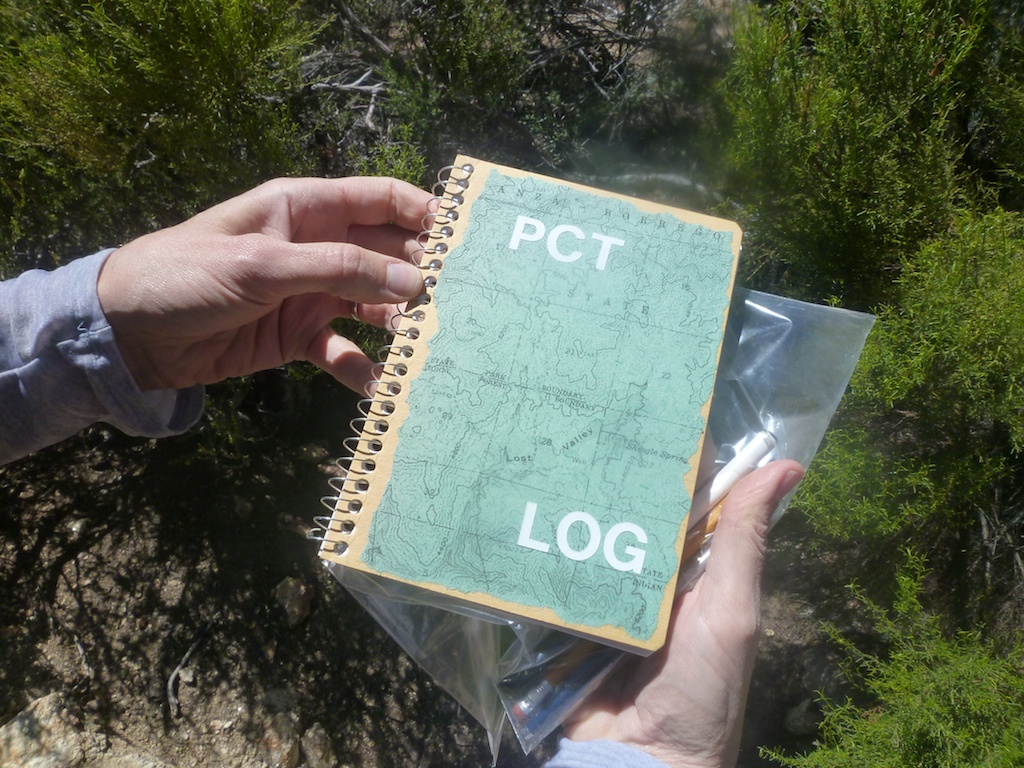 The scenery was beautiful, with rolling green chaparral – covered hills all around us and stunning tall red and pink desert mountains in the distance. We saw what we thought were some Ribbonwood trees (G suggested that the foliage looked just like Rosemary) and Coulter Pines. Gabriel enjoyed himself doing a bit of hiking and pointed out a few charred branches from the bushfires which burnt the area in 2003.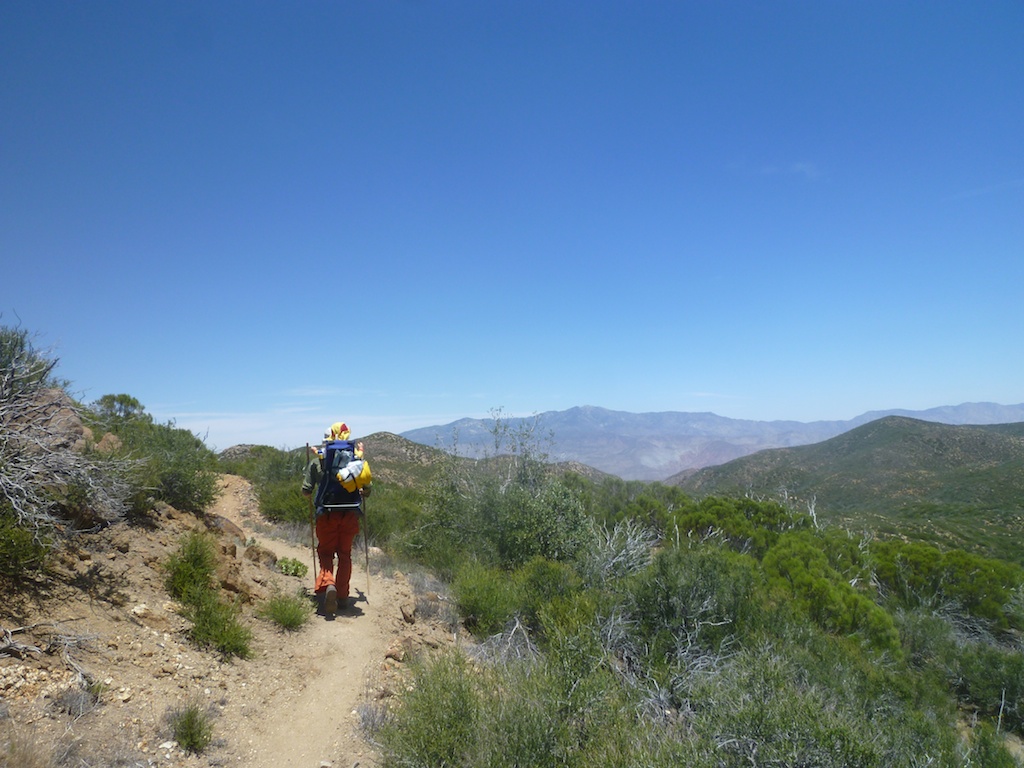 We quickly reached the saddle and scouted a location to pitch our tarp. The whole area was very windy and exposed and we couldn't really find any protected spots, so we pitched the tarp next so some trees and a big pile of rocks left by a previous hiker. A little tree was gently included in our tarp, becoming and indoor plant for the evening. I didn't have quite enough room to make the tarp super tight, which made it flap around quite a bit, and if we weren't so close to the car I think we would have hiked further away to find a more sheltered spot than this area.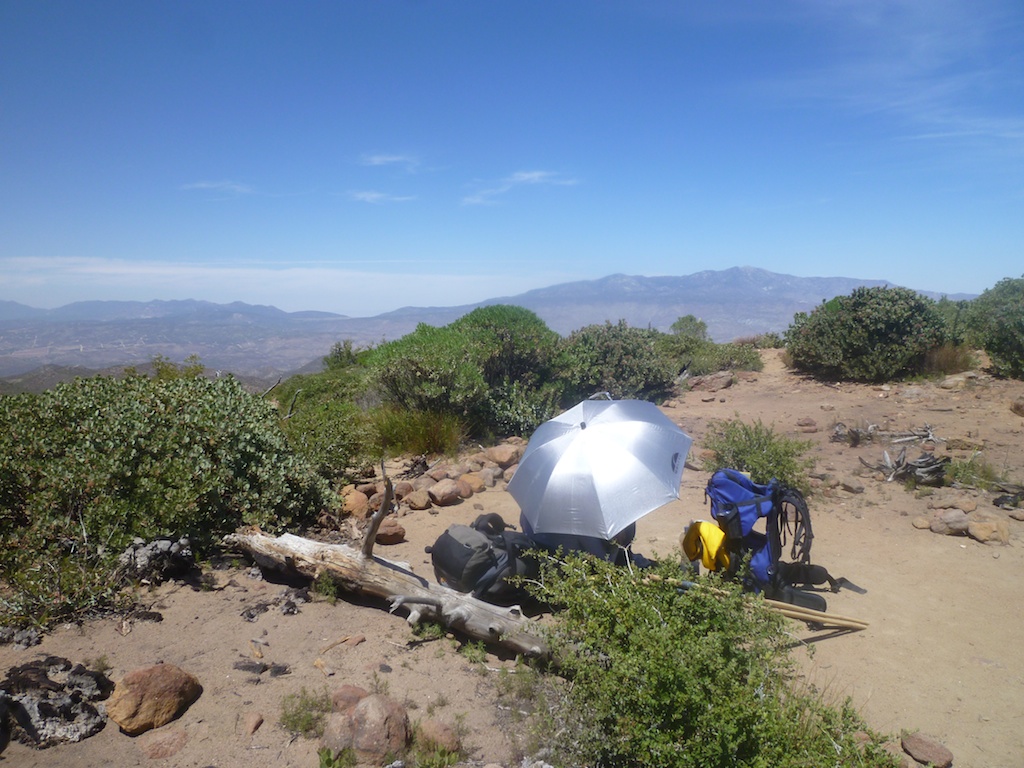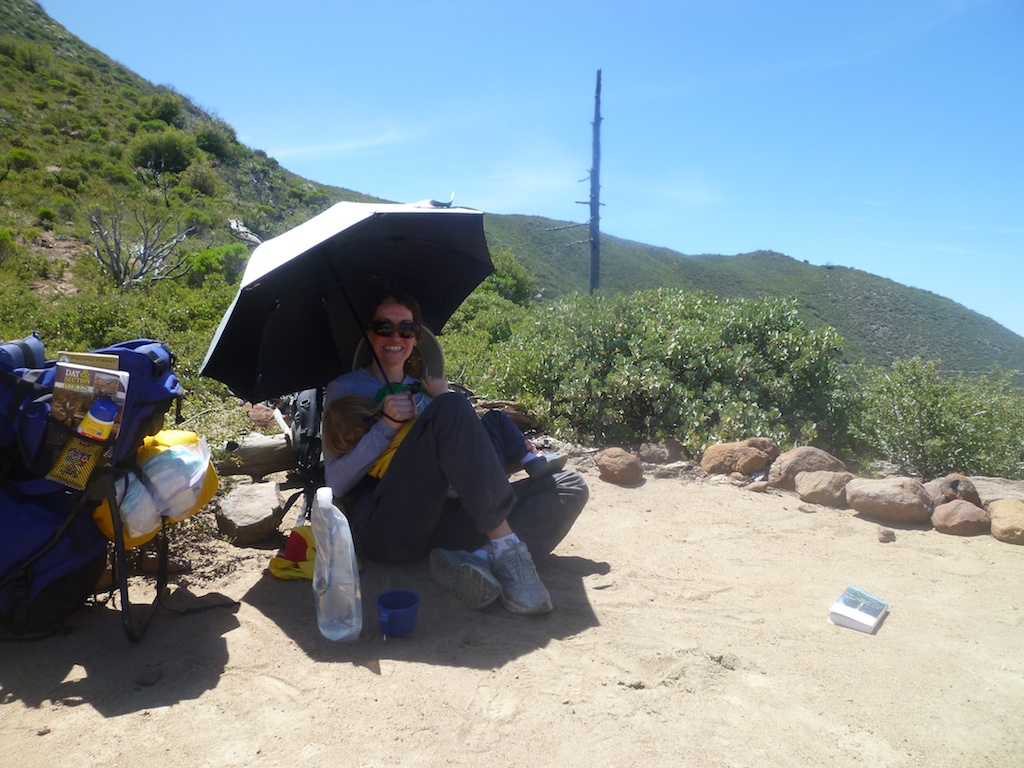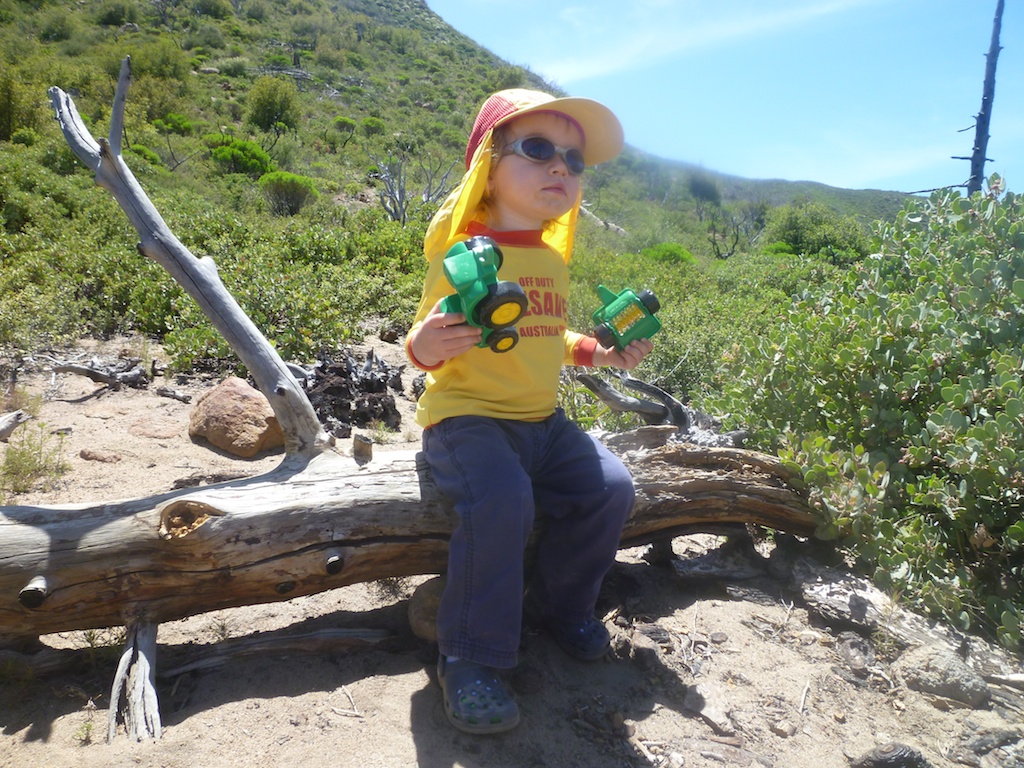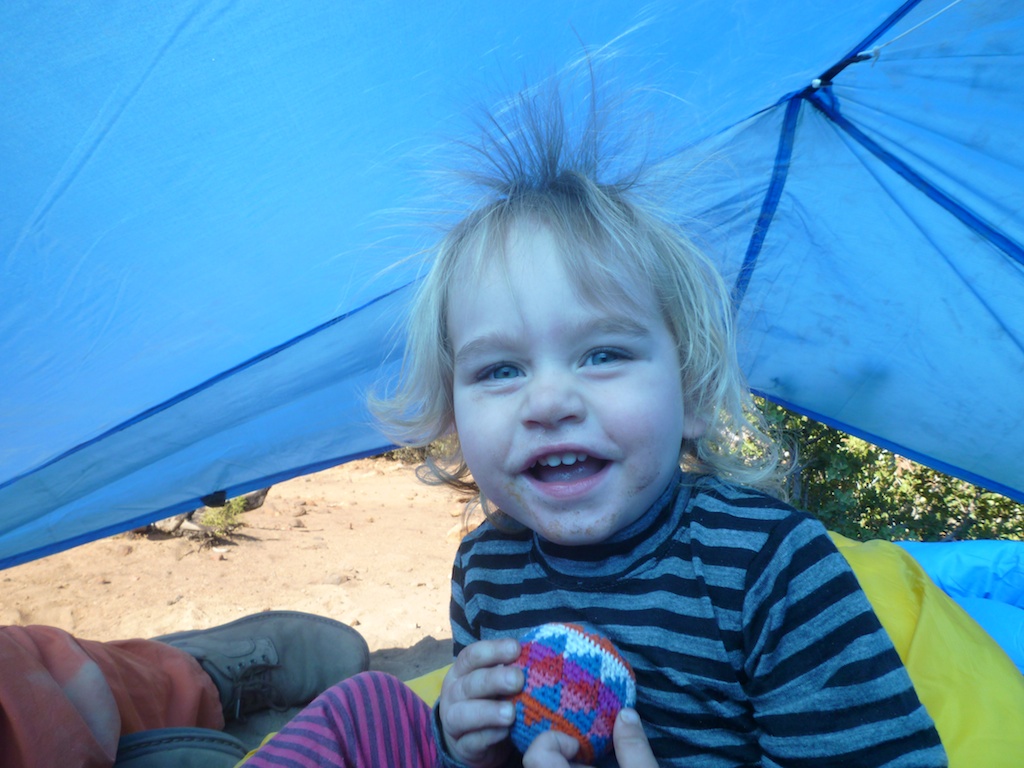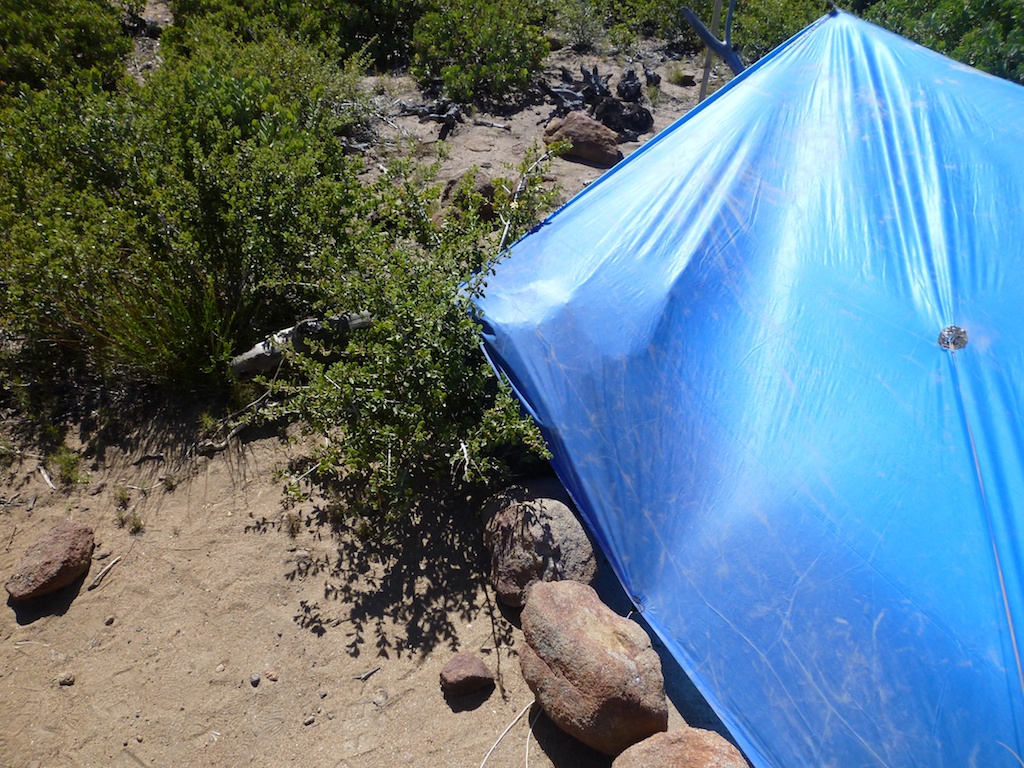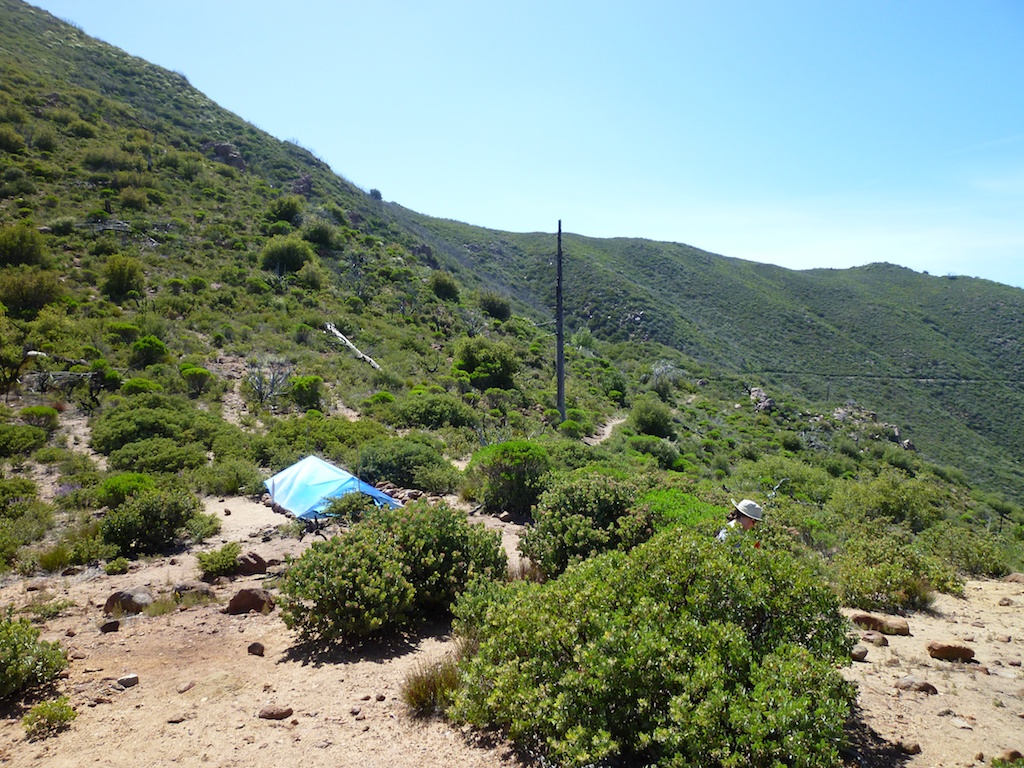 It was quite exhausting being out in the sun and cold wind and while initially it was relieving to be inside the tarp shelter, it was flapping around so much that the noise of the flapping became fatiguing in itself. I was thinking it might be a good idea to just pack up and go home, but then the wind died down a bit and it was lovely so we stayed!
The views were amazing though, and after setting up camp we made a scramble from the saddle to Combs' Peak itself. It was really tough work getting up to the top but we were rewarded with a 360-degree panorama of the area. Our camp was the size of a flea from the top of the Peak!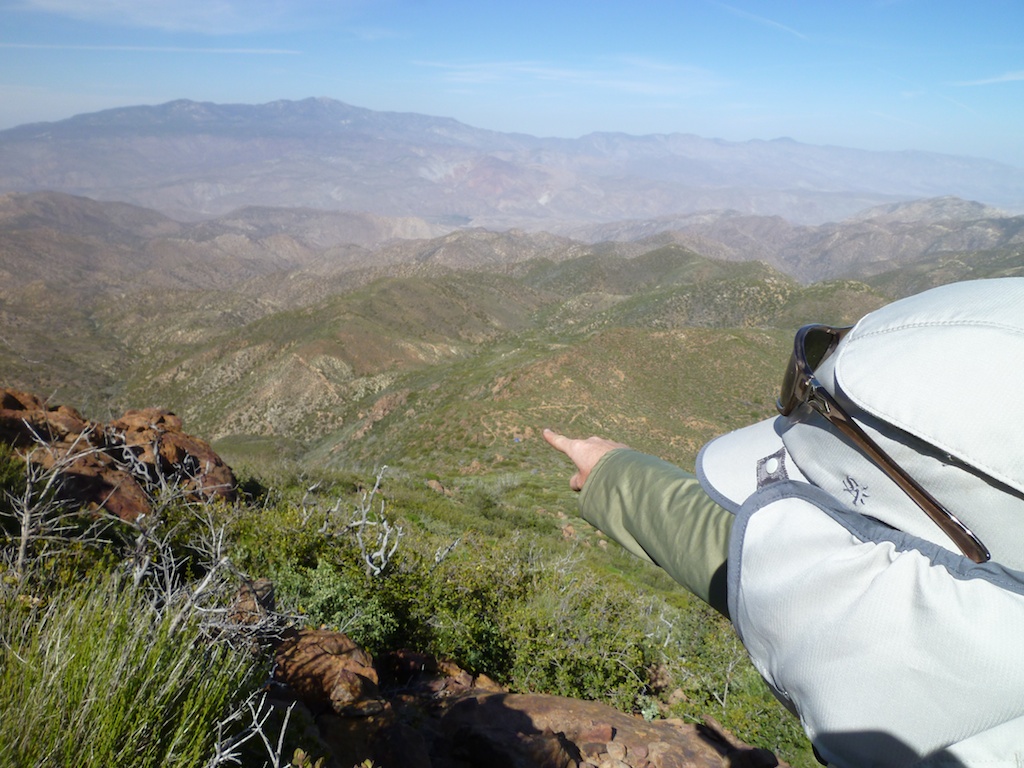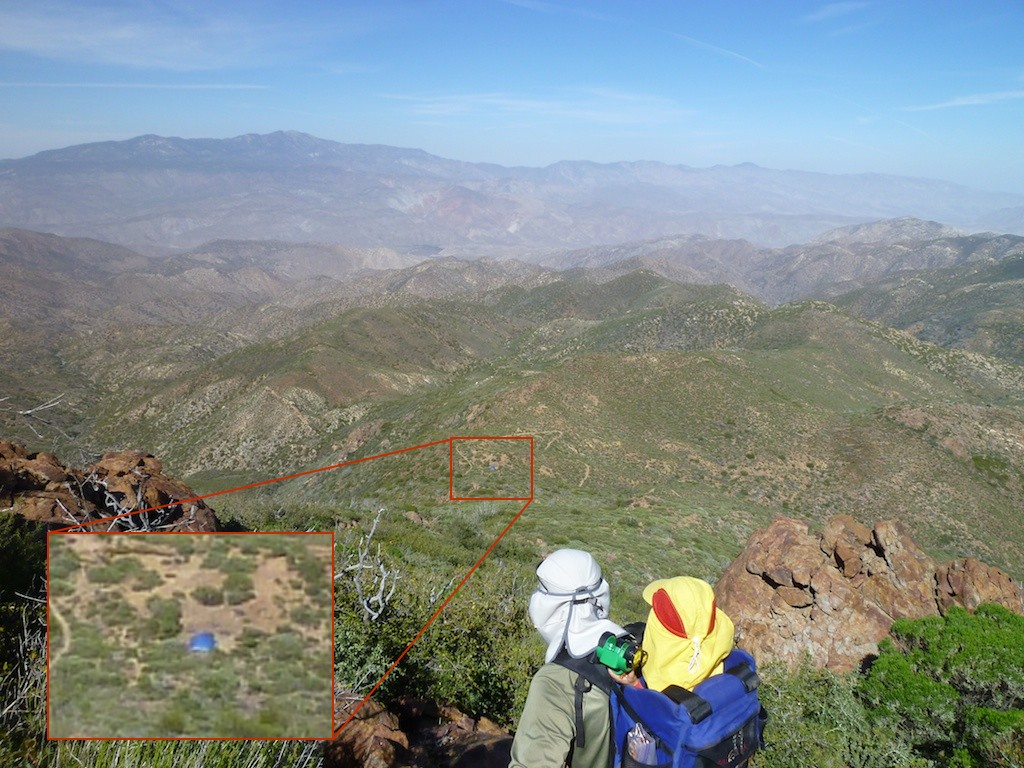 When we got back down we all put on some warm clothing and Jess and Gabriel did a watercolor together. They were both quite satisfied with their paintings!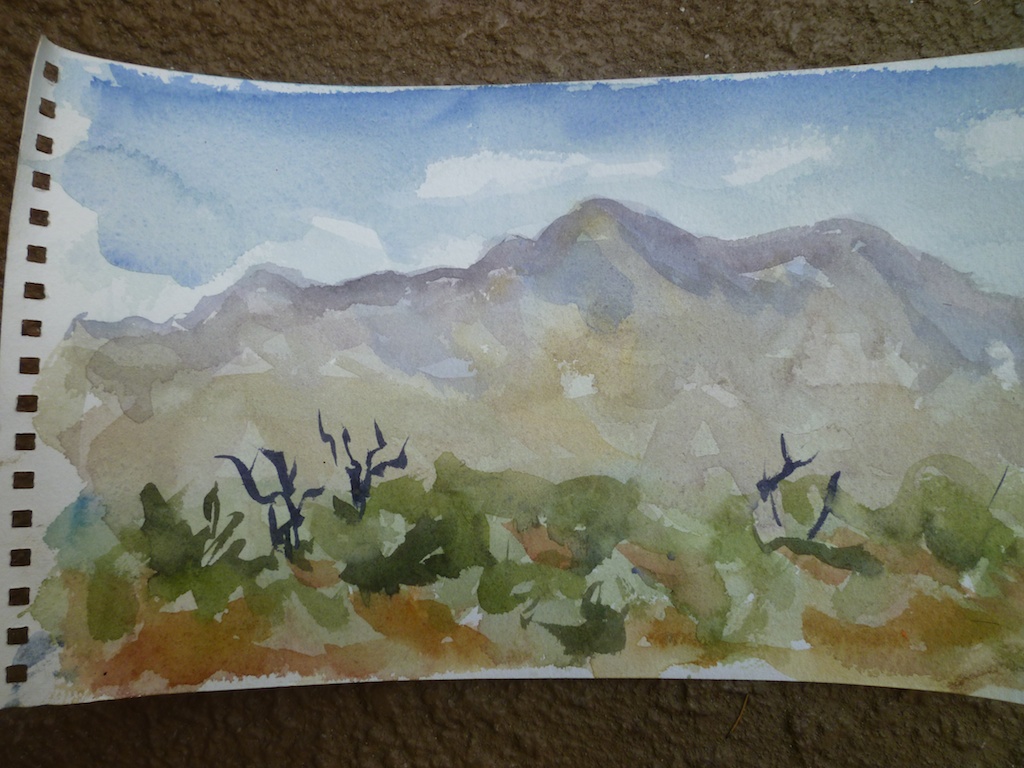 We heated up and rehydrated some dehydrated rice and beans which had avocados, tomato, onion and cheese included as well as all the proper herbs and spices the way Jess does it – wow it was amazing. Along with some corn tortillas it was so tasty that Gabriel commented, 'really good!'
A father and son hiking team came up and said hello – Frank and Brad are gradually doing sections of the PCT when they have the time, hoping to get the whole thing hiked eventually. They told us about their journey and we talked about hiking and lightening loads and equipment.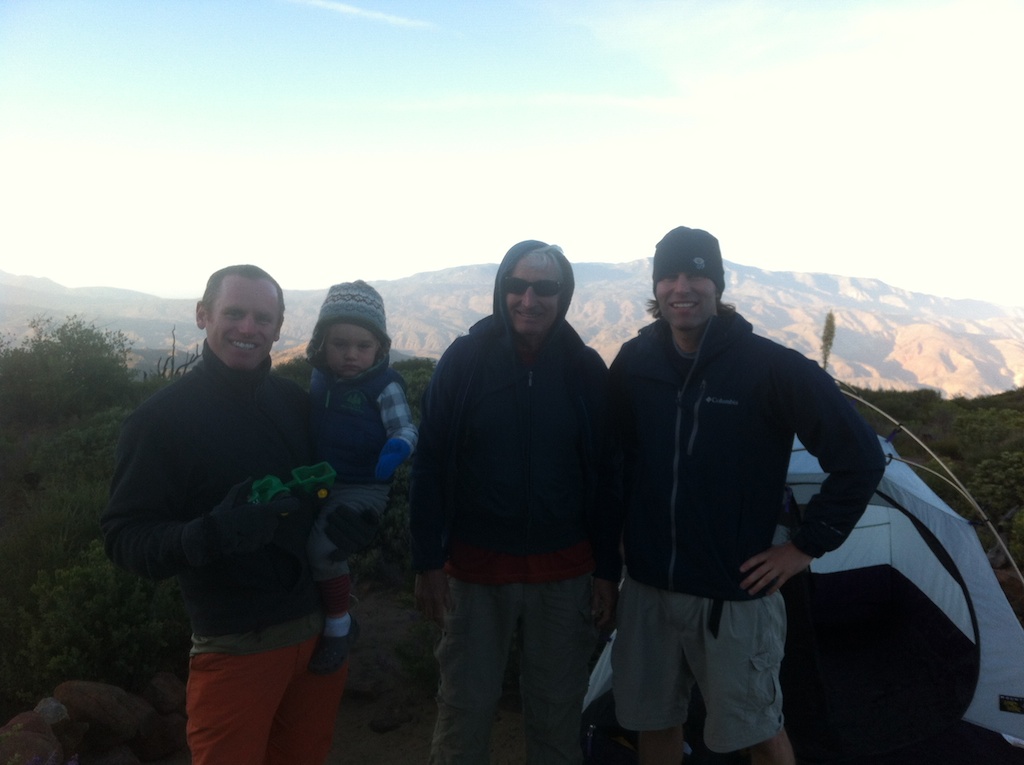 The sun went down and Jess painted another painting while I read Gabriel a story and we waited for the stars to come out. He'd never actually seen stars in person before tonight so we were staying up late to catch a glimpse of them. When the first one came out he was quite surprised! Then another, and soon there were hundreds of stars. I'm not sure what he thought about them but he did look at them quite a bit. Looking at the horizon we saw a bright orange flame which turned out to be a really dramatic moonrise. Gabriel and I had a magical conversation:
"Daddy, Gabriel want touch moon!" he said.
"You want to touch the moon?"
"Yes, can't reach it!"
"The moon is so far away we can't touch it," I explained.
"Yes, Daddy hold Gabriel walk closer touch moon," he pleaded.
"I can't walk that far because the moon is so far away."
He looked at me right in the eye and said quietly, "Daddy, try."
I didn't have an answer to that.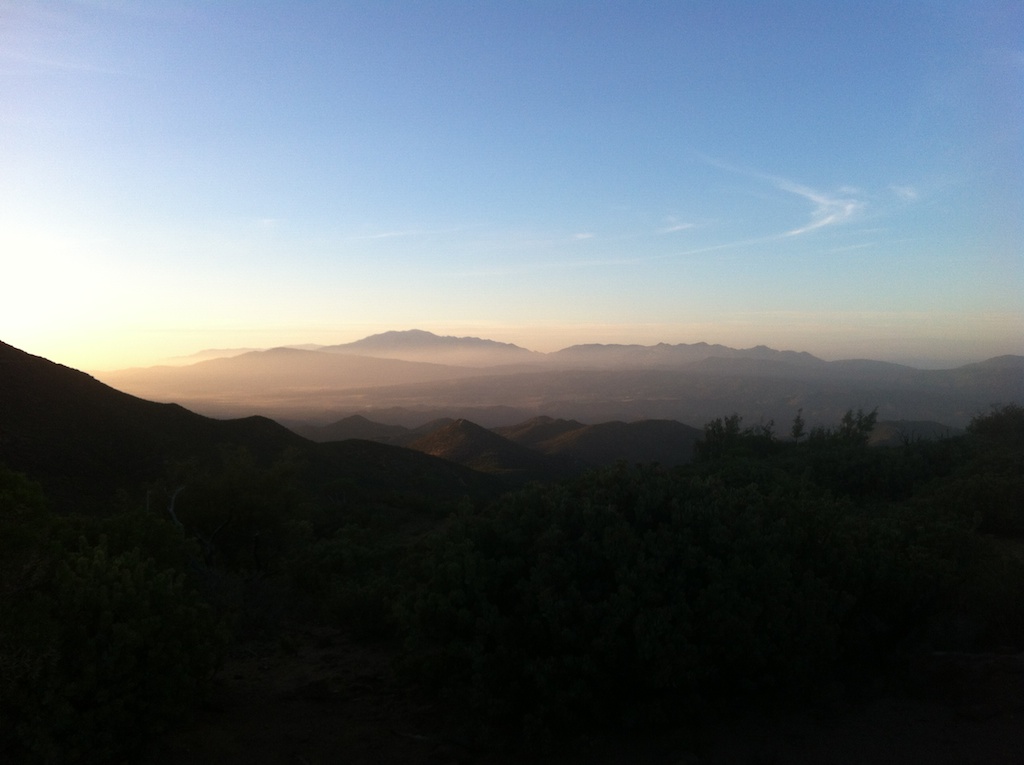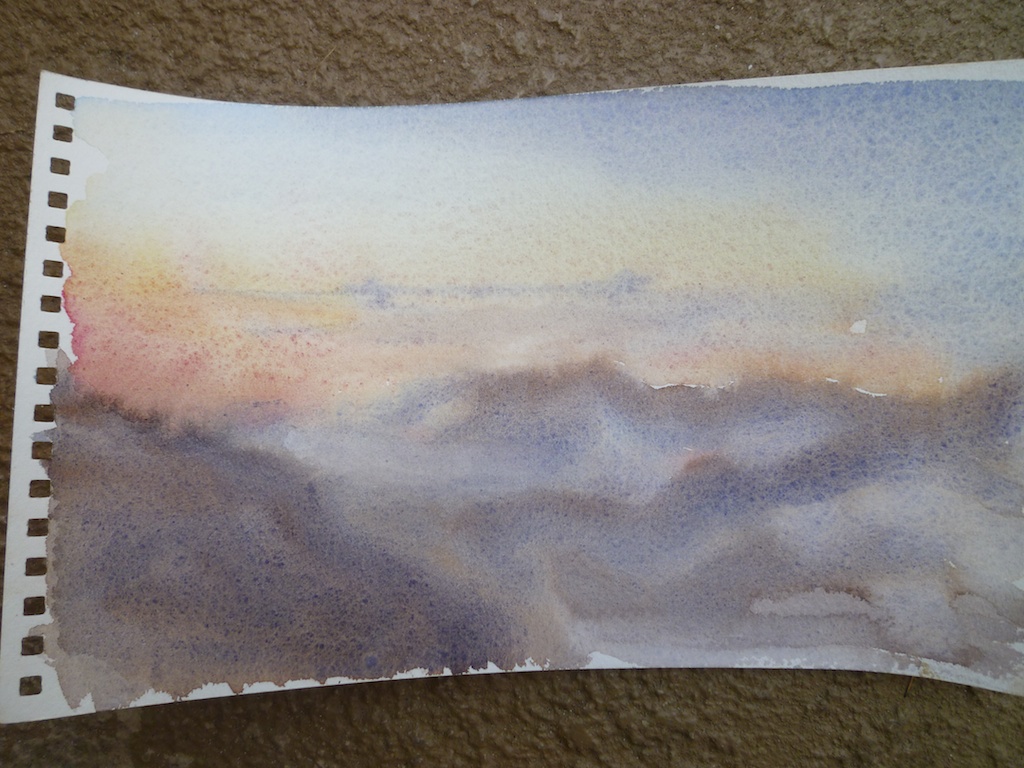 We retired to bed. Almost immediately the wind picked up again with gusts in excess of 20 knots. I was really anxious about the tarp picking up and flying away, or ripping dramatically. At one point around 1am the pole holding the foot-end of the ridge line of the tarp fell down on us! I just crawled out and fixed it back up and gave the whole thing an inspection and tightened it all up. It had just been too loose and there wasn't enough tension on the ridge-line pole. When it fell over it was so slow, quiet and uneventful that my anxiety about it falling over again was eliminated. In the early morning hours the wind picked up, gusting around 30 knots and I'm pleased to say the tarp held up like a champ, keeping us warm and sheltered the whole night with no rips.
With all the flapping and noise Jess and I didn't get much sleep. The moonlight was so bright that we were able to look at each other with wide, fear-filled eyes as every huge gust of wind slammed the tarp around. Gabriel slept like a log, and it was so peaceful watching him sleep so soundly when all around was wild, windy commotion. He didn't even wake up when the tarp fell over! Lucky guy.
In the morning I helped Gabriel light the stove and cook some hot water for tea. We ate some granola bars Jess had prepared, and shared some with Frank and Brad as they headed out on their journey. Packing up camp was challenging due to the high winds but we got everything all stuffed away with a minimum of fuss. The walk back to the car took about 45 minutes and was lovely in the early morning light. The purple wildflowers caught the sunshine and the hillsides seemed to glow.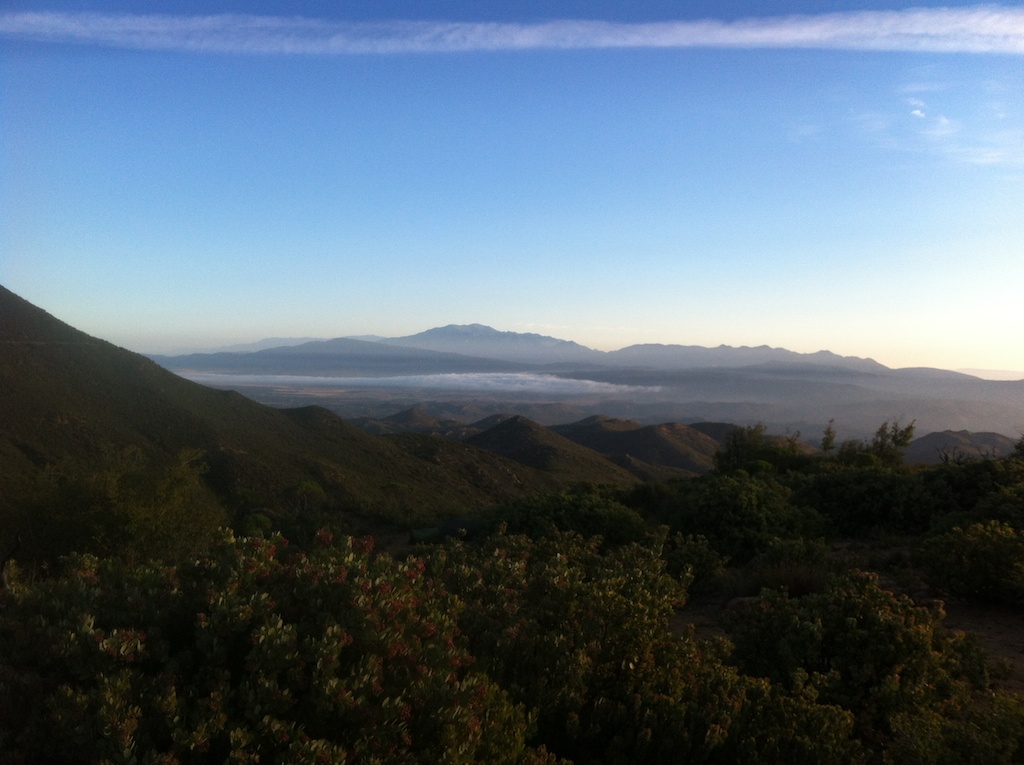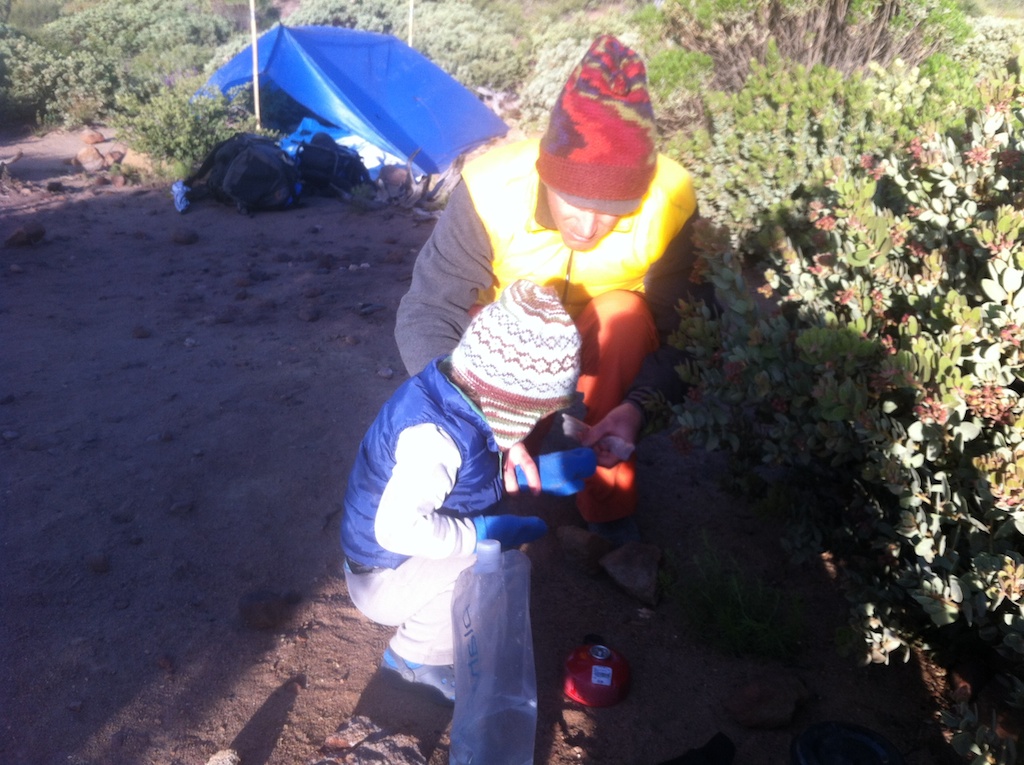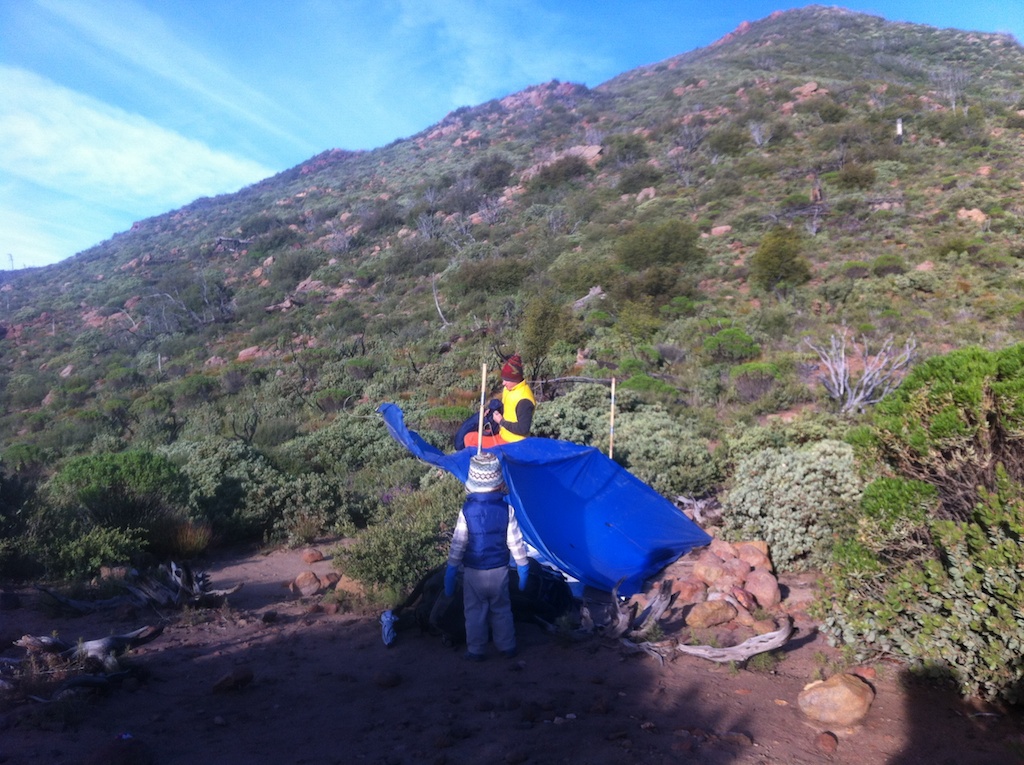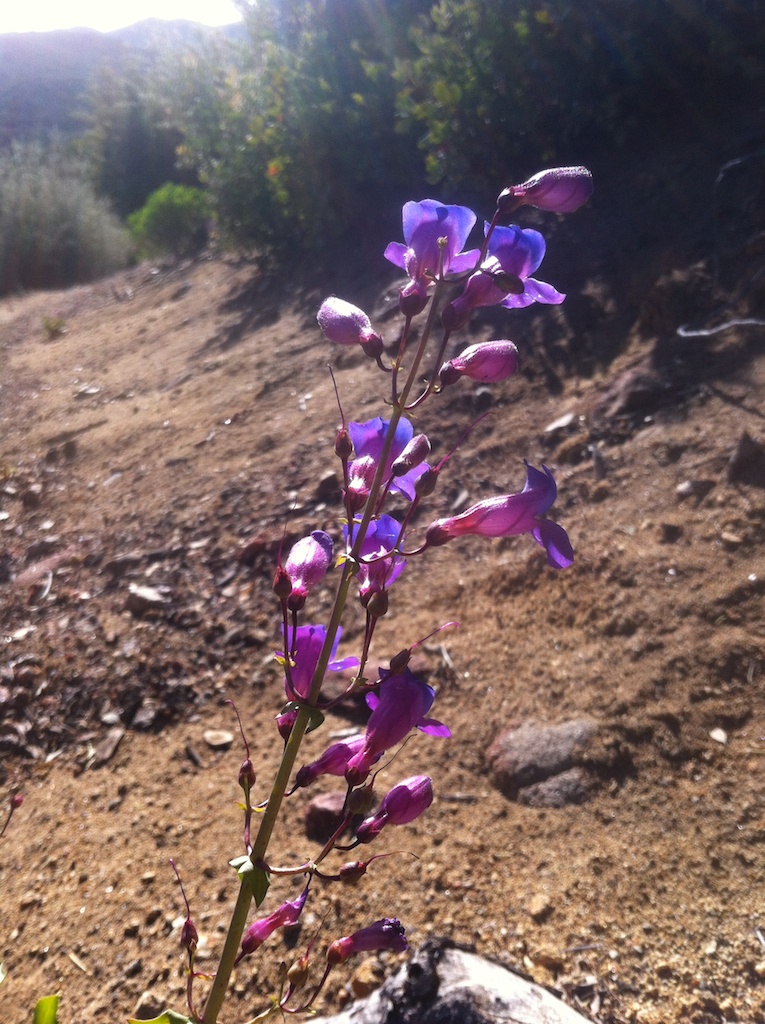 We arrived home and Gabriel and I went to the beach. I don't think I've ever seen him in such a good mood as he was during this trip.
Then he passed out at the dinner table and we had to move him into bed! He slept from 6pm all night till 6:30am.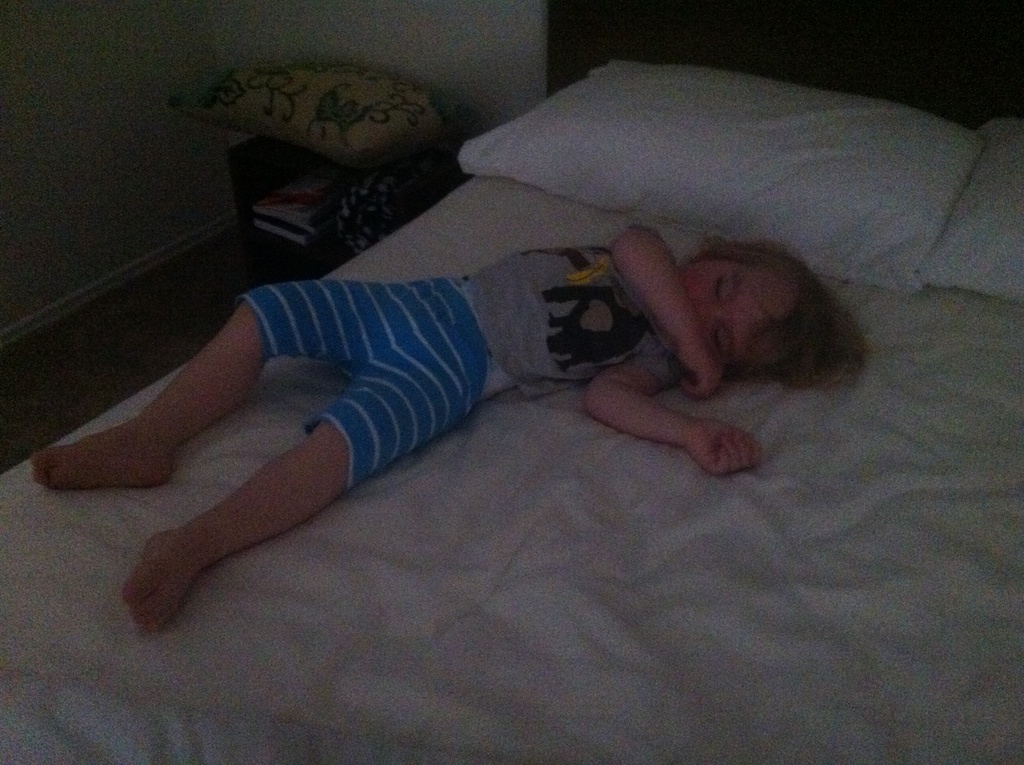 Notes on pack weights:
Jess: 38lb total. Jess carried all the food (5-7lb, not weighed) and 4 liters water (8.8lb), as well as everyone's clothing, sleeping pads, quilt
Simon: 45lb total. I carried 2 liters water (4.4lb), Gabriel (28lb), heavy baby-carrying backpack (6lb), tarp + net-tent + cook set (3lb) and 3.6lb of misc. junk.