Warner Springs to Eagle Rock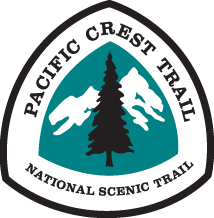 Pacific Crest Trail
Mile 109 – 106 (3 miles)
We took a day hike today from the Warner Springs fire station south on the PCT to Eagle Rock, a magnificent rock formation in the middle of the desert which looks like, you guessed it, an eagle!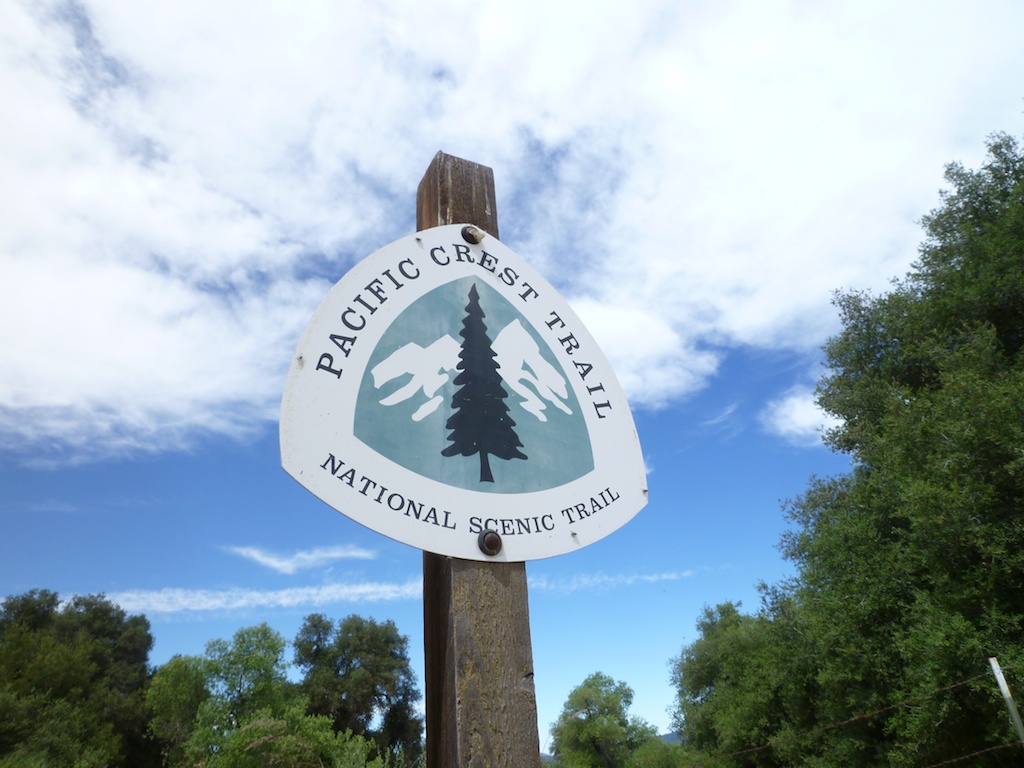 Gabriel brought Lamb along and Jess was testing her new backpack. After parking the car at a turnout opposite the fire station we set off! Jess was fumbling with the camera (memory card full) and so it was a few minutes before we realized we were going the wrong way. Not to worry! We turned around and saw some spray-paint on the highway underpass beckoning the way to the PCT southbound.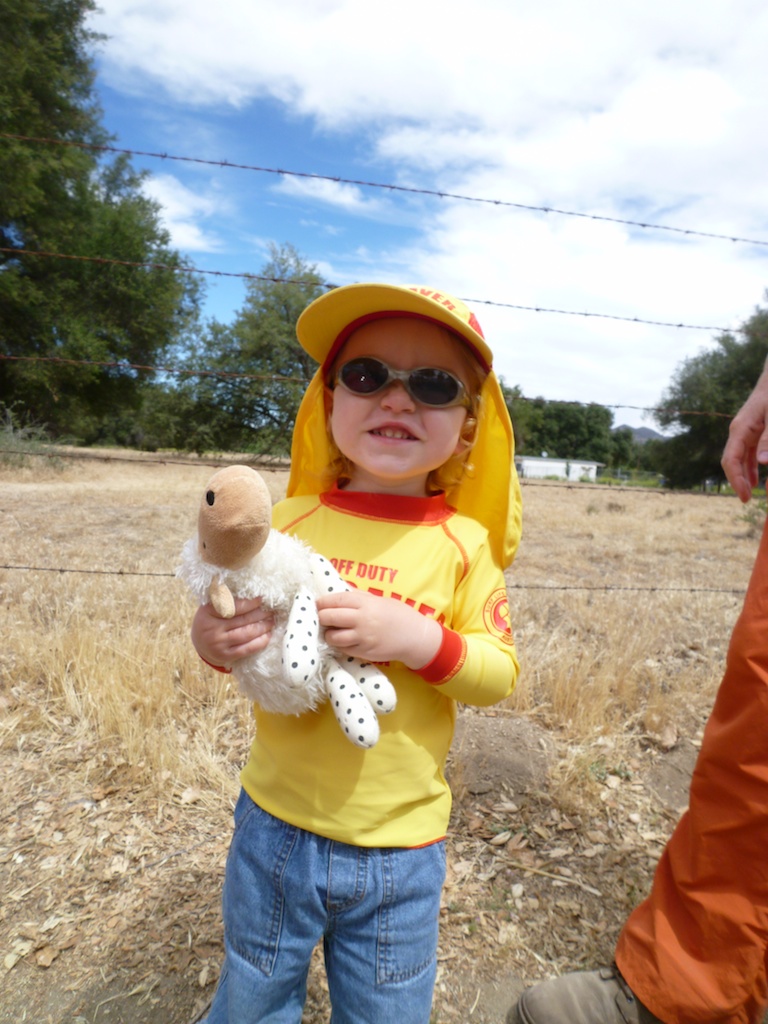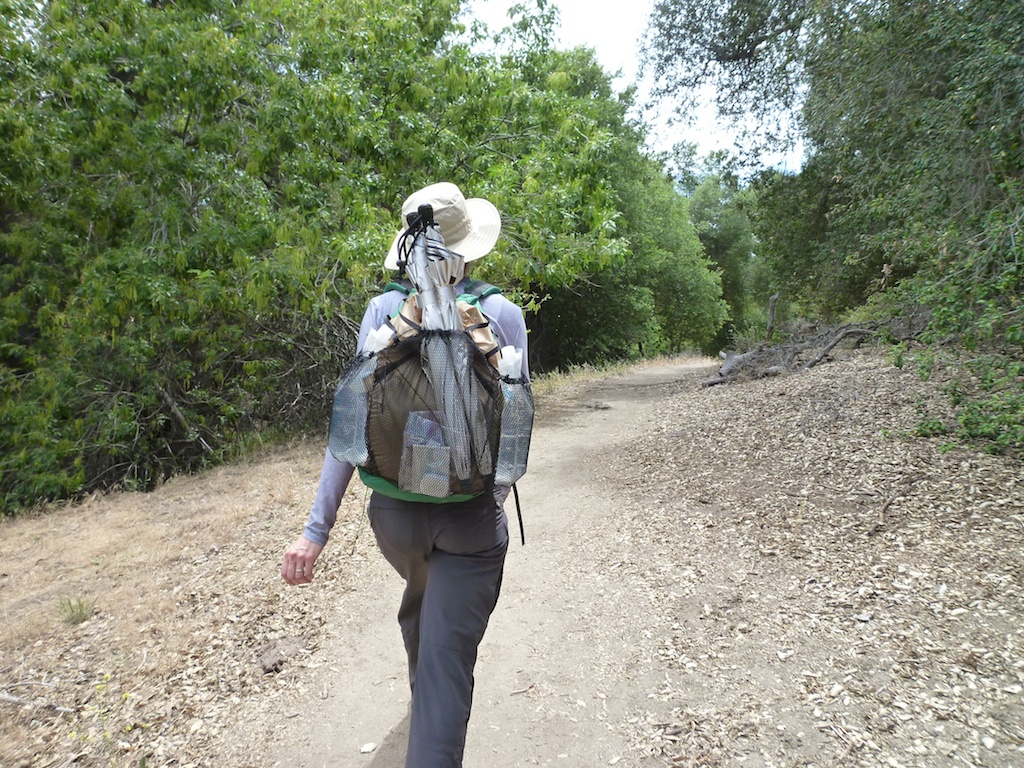 After flinging Gabriel through the barbed-wire we walked under the tiny bridge and were heading the right way! It was a beautiful grove of oak trees next to a lovely creek in the Cañada Verde. There was a little trickle of water but it was pretty dry, dusty and almost 90 degrees in the shade. There was a high overcast layer and barely any wind, and little black flies were buzzing around everywhere.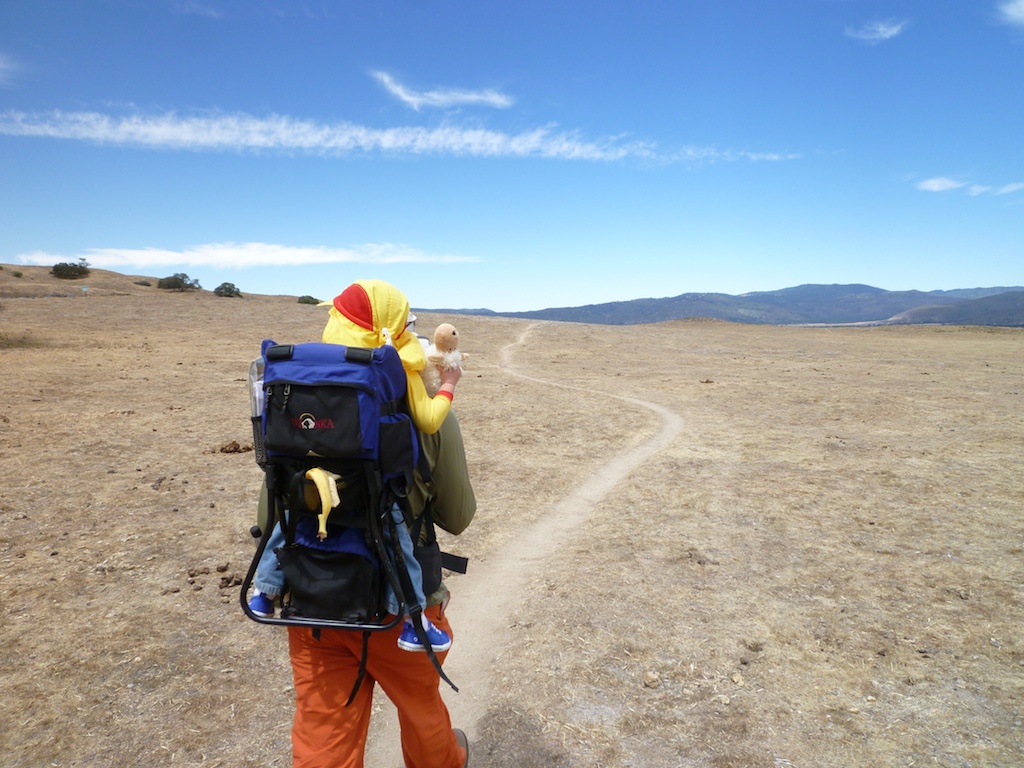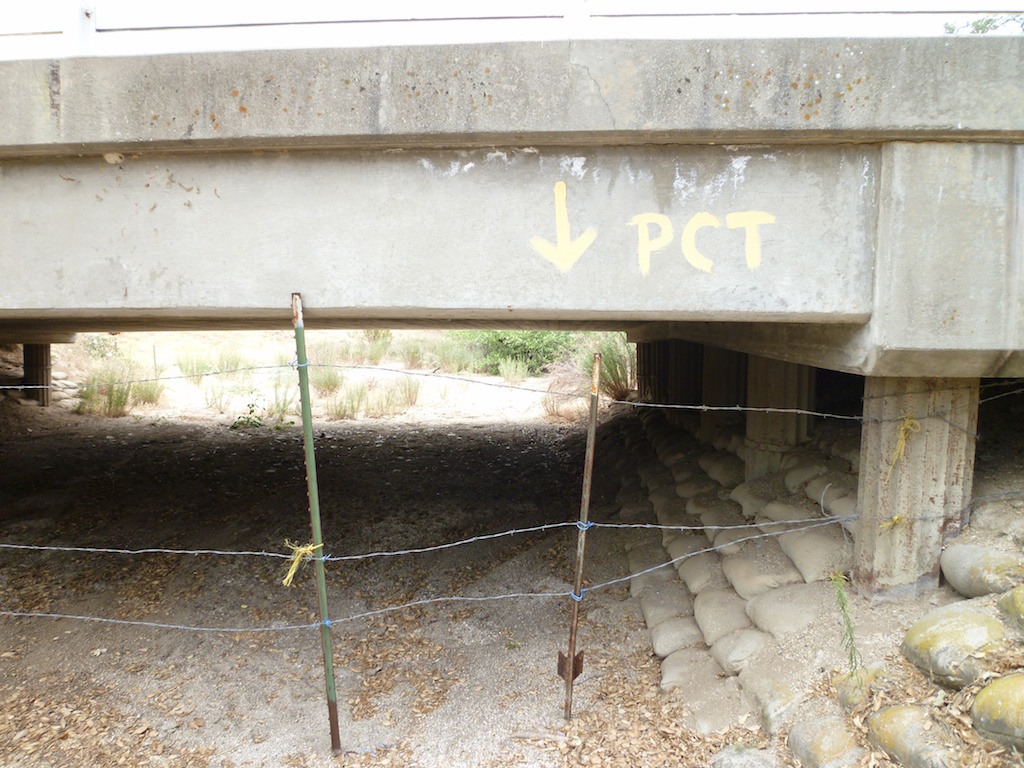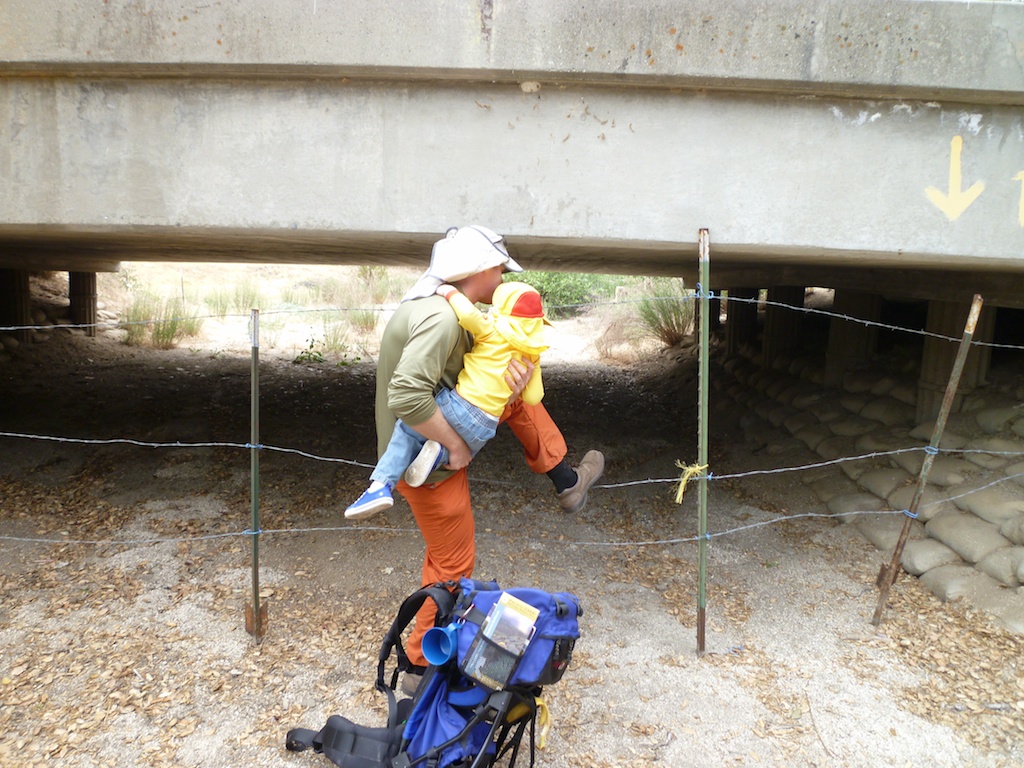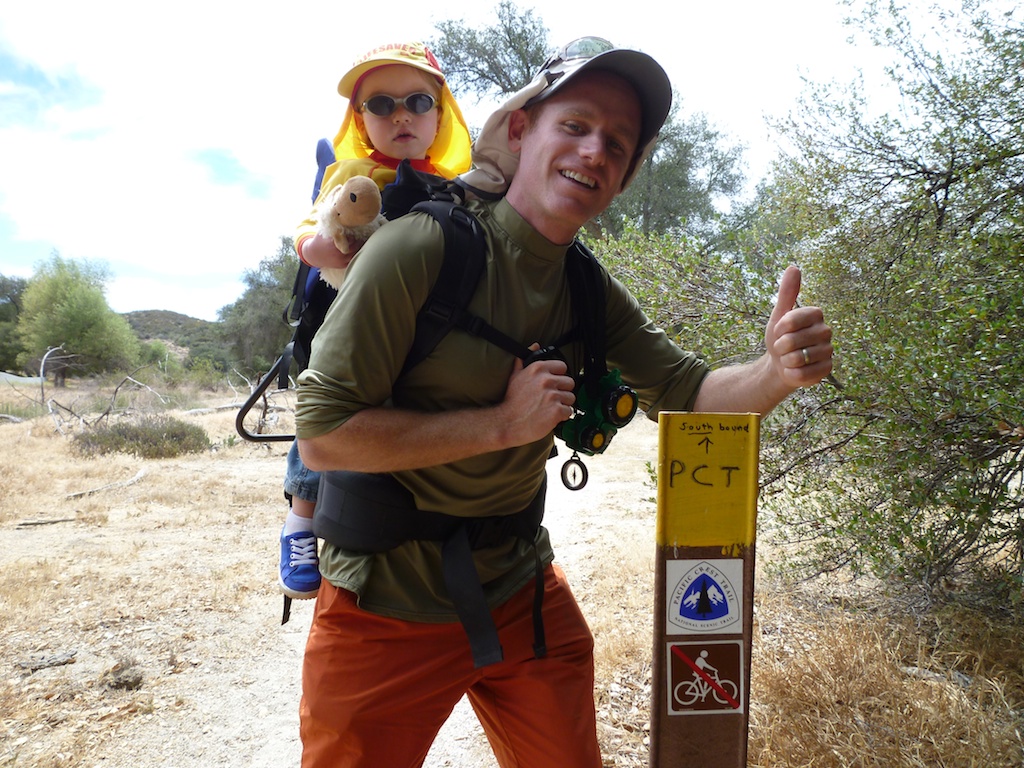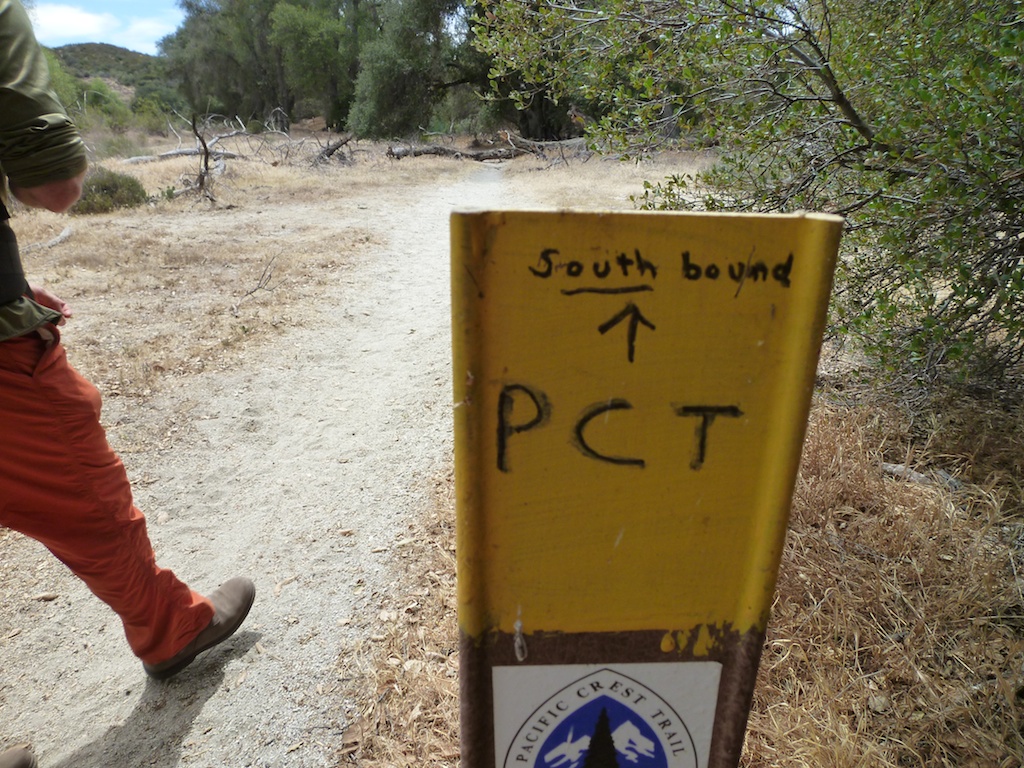 We continued through fields and meadows alongside the creek. What this must look like in spring! Being summer now it was looking quite brown and hot, especially now the sun was coming out. We stopped for a break under the shade of a tree next to the creek and Jess got out her umbrella.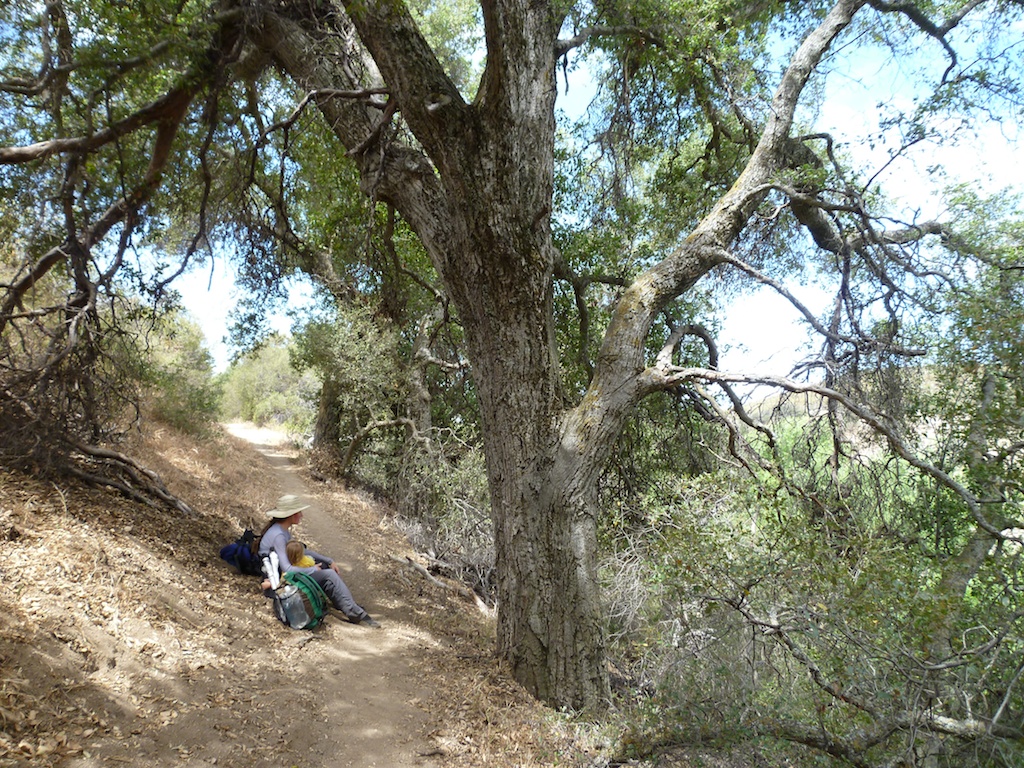 The umbrellas were great at providing a small area of shade and coolness. We could take off our hats and just enjoy the growing breeze without the debilitating effects of the sunlight on our heads.
Crossing a ridge we entered a different landscape – barren, hot and dusty. Some cows were laying down on a hilltop and one of them stood up to take a look at us as we passed. It had no udder, it had another udder if you catch my drift (it was a bull), so we tried not to make any sudden movements as we passed it. He stood up and watched us pass which was actually quite intimidating – we had nowhere to go if he had decided to charge!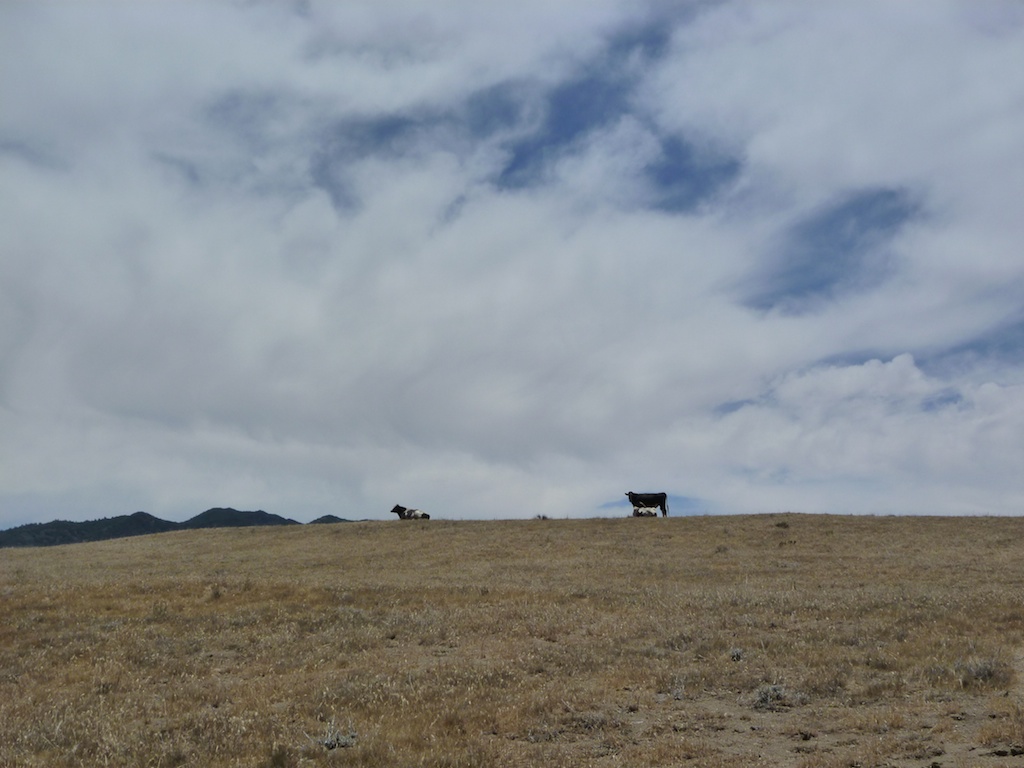 We survived the killer cow incident without harm and rounded a corner to the Eagle Rock itself! Lunch was watermelon, peanut butter and jelly sandwiches, and cheese. We had brought what we thought was far too much water for a day hike: 4 litres, but it was going quick because of the heat.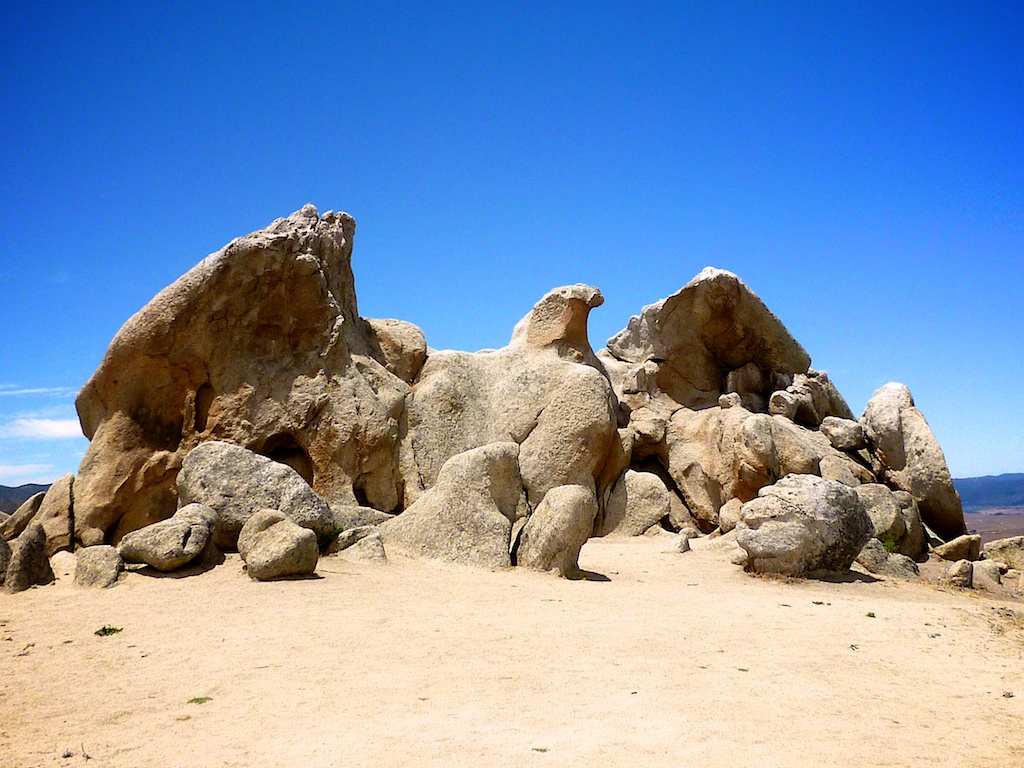 There was a geo-cache canister at the site, full of trinkets and a log. We left our name but we didn't leave anything in the canister.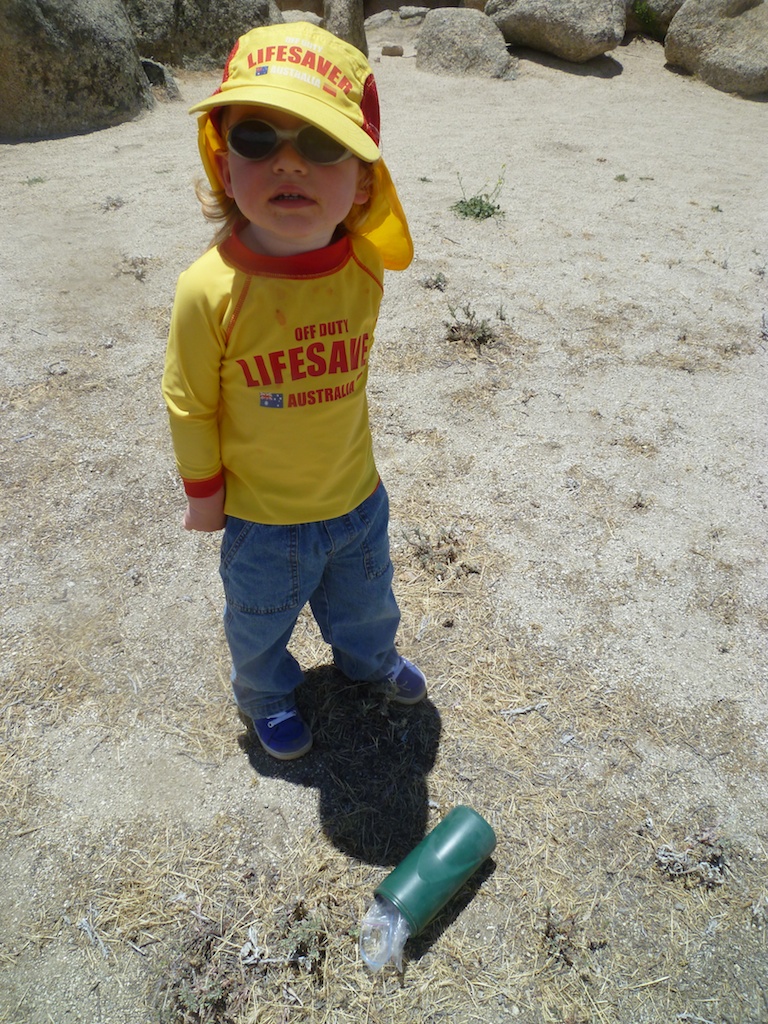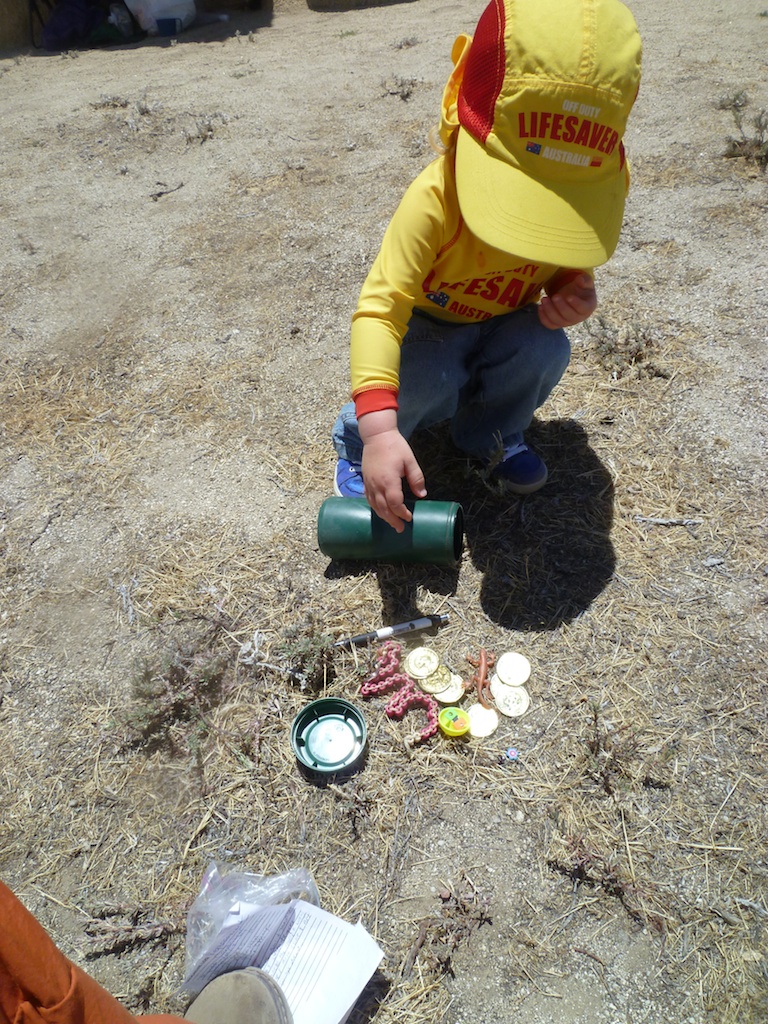 When Jess had finished a couple of paintings of the rock with her new paint-set we packed up and headed back.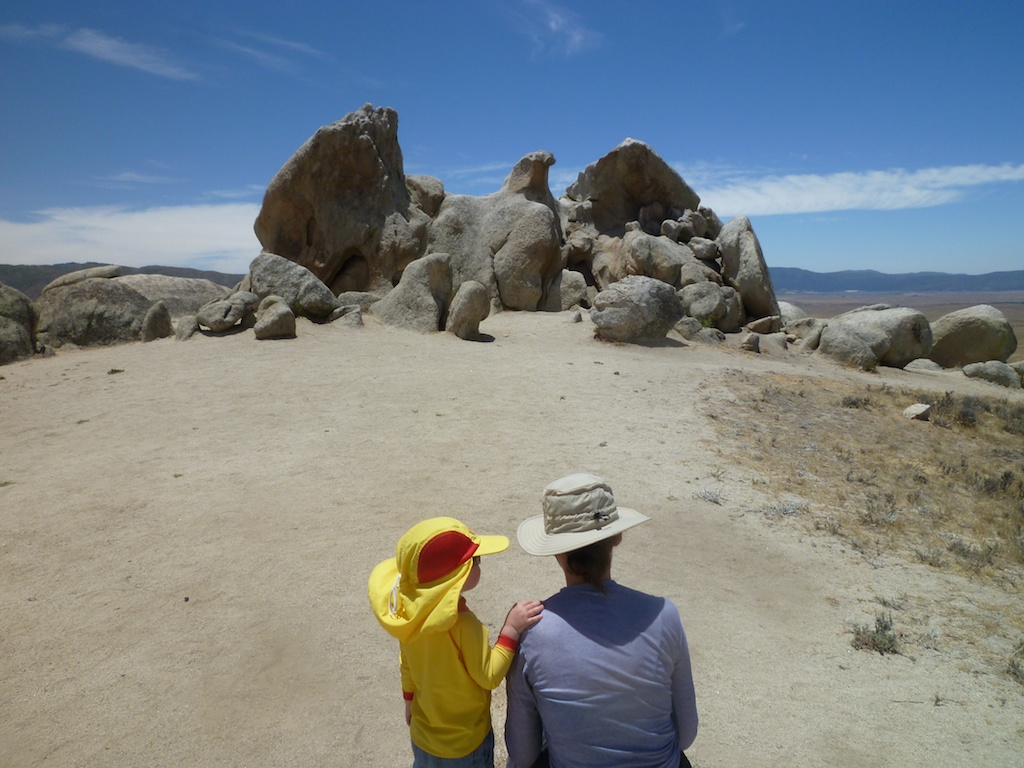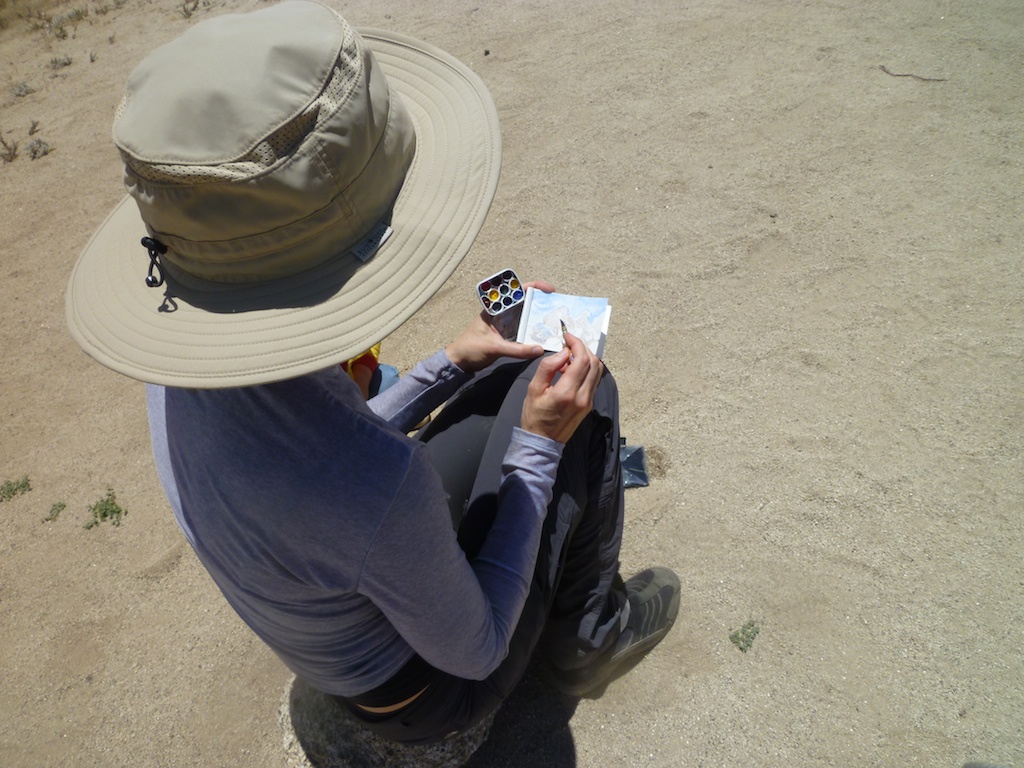 Gabriel hiked for what seemed like hours on the way back, looking at every stone, stick, leaf, branch and piece of dirt. I checked the GPS and we had traveled .05 of a mile while he hiked! So it was back up in the baby carrier for him.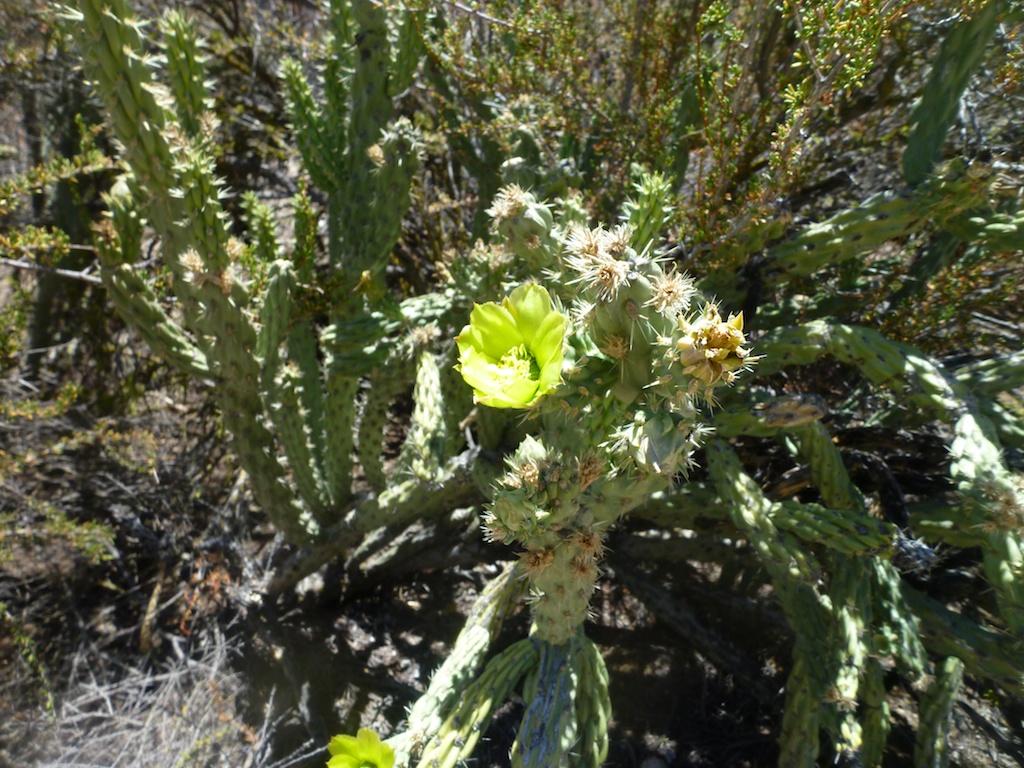 We made it back to the car, and drove to Grandma and Grandpa's house for baths and dinner. Again our little trooper passed out early and had to be carried to bed, pooped after a very good effort.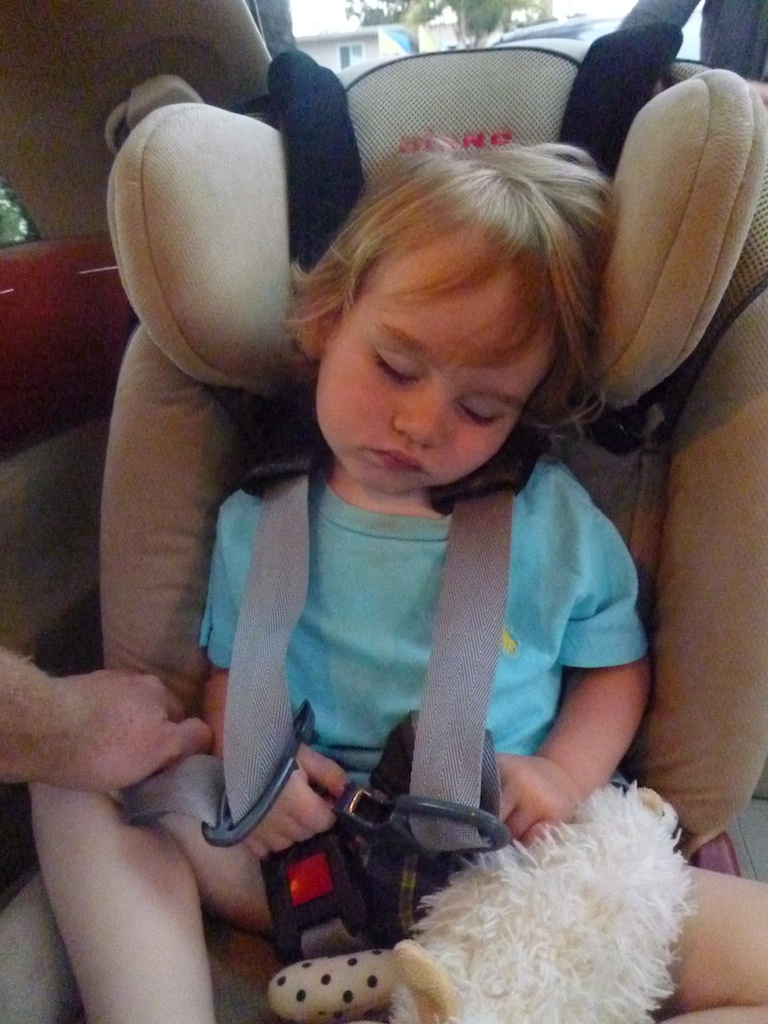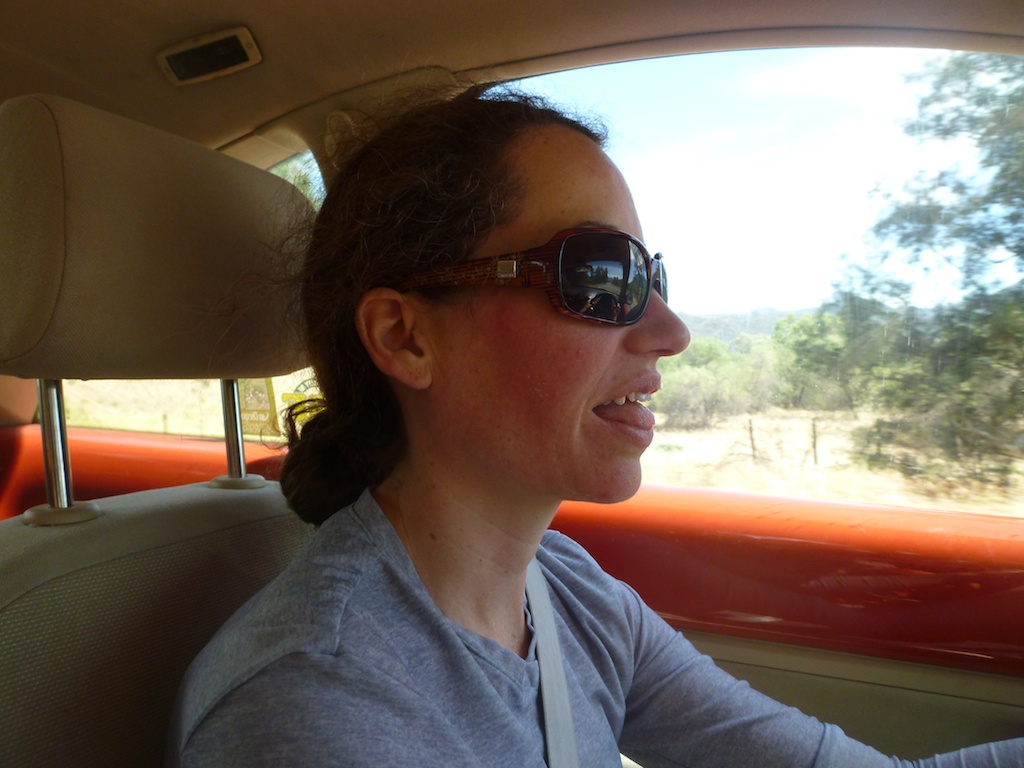 Jess's verdict on the backpack was quite positive – she said she loved it! But she was experiencing some discomfort when the water was loaded on the side pockets which was alleviated with the water on the front pocket. Another factor – the bag was under-loaded bulk-wise since we didn't have as much junk for a simple day-hike as we would have for a longer walk. Maybe it will sit better when it's more full. I guess we're gonna find out.