Backpack
Jess's current backpack (an old Lowe Alpine Vision 40) weighs in at about 3.5 pounds. She likes it, but seriously who wants to carry 3.5 pounds before you even load it up? I just finished sewing her up a backpack from a Ray & Jenny Jardine kit (the same people who designed the tarp, net-tent and quilt). Finished weight: 9 oz! Almost 3 pounds saved.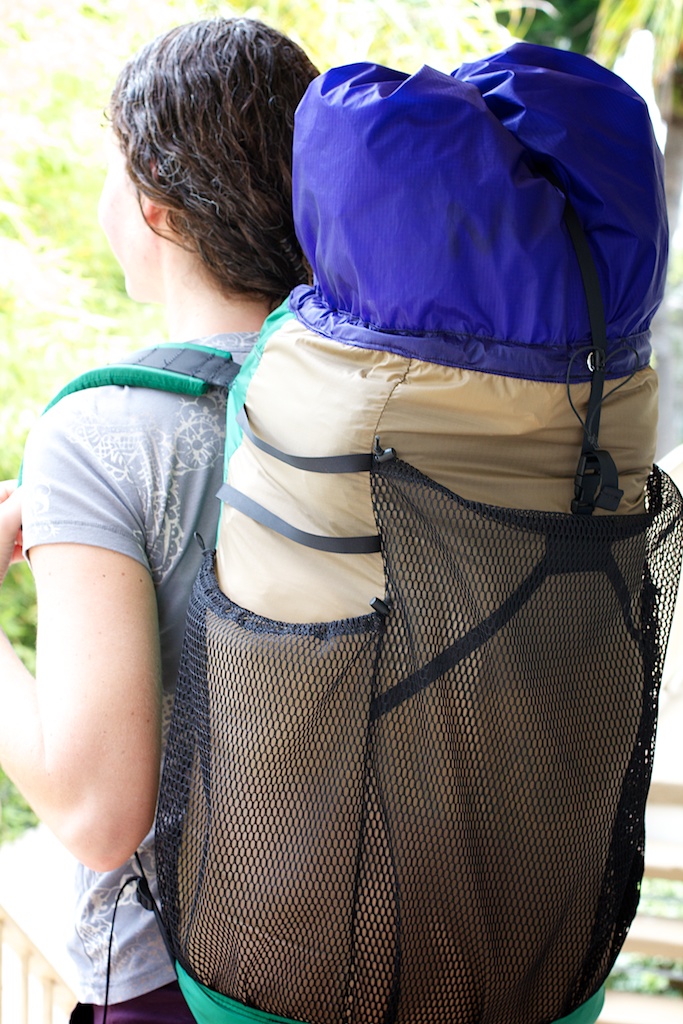 It was quite a challenge! The volume is theoretically 2600 cubic inches (42 litres), not including the enormous extension collar and outside pockets. It also has hooks for holding objects.
Jess's original pack is 2400 cubic inches (40 litres) so this pack will have slightly more space but really that will not translate into being able to carry heavier loads, just more bulky loads. It should be able to carry about 30 pounds max comfortably but Ray Jardine has apparently used his to carry up to 50 pounds on long waterless stretches of the PCT.
It has no frame of any kind so I will be interested to see if it's comfortable enough for her to actually use on the trail or if she will take the extra three pounds back due to discomfort. It has no frame or padding of any kind – the theory is that you can provide padding by packing soft things near your back, and if the load is light enough the need for a frame is diminished. We will see!